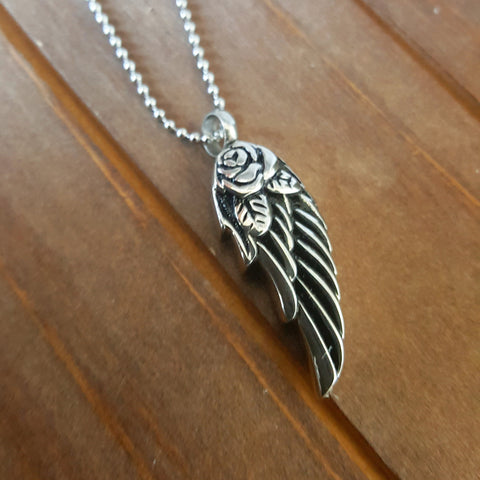 Angel Wing - Feather Style Cremation Urn Charm or Necklace
Cremation Feather Angel Wing Urn Custom Personalized Charm Memorial Pet Cremation Jewelry In Memory Mommy of an Angel Always by My Side

Stainless steel Cremation Urn Charm that can be added to an existing piece of jewelry that you already have. It will make a special addition to a necklace or purchase it with a chain.
You can also keep it close by as a pocket token.


You will receive:

* 1 inch urn charm in your choice in Stainless steel Silver
Add on:
24inch stainless steel ball chain.


To fill the urn: remove the screw, insert a small of dust in the pendant and before screwing the the top back on place a drop of glue on the screw to ensure the bracelet is forever sealed.


This is a hand made item and your final piece may not look exactly the same as the one pictured, it will be special to only you. Letters may not always be perfectly aligned, this is the charm of buying hand made! Each piece is completely unique.
---
We Also Recommend