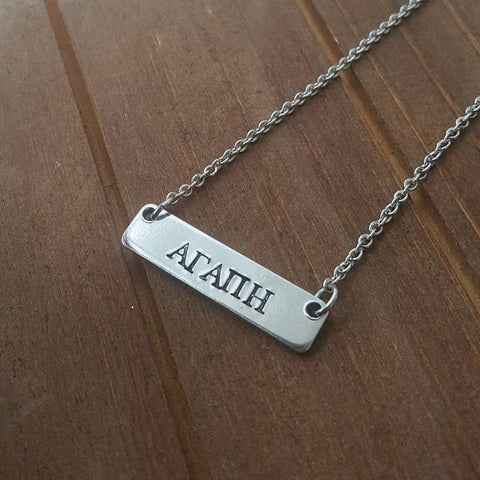 Greek Letters Plate Bar Personalized Bar Necklace - Personalize
Greek Name Plate Bar Sorority Necklace Bar Necklace Custom Name Necklace Silver Necklace Bridesmaids Bridal Party Wedding Gift Under 25

Aluminum name plate bar necklace!
Hand stamped and shined just for you!
THE CUSTOMIZATION FIELD IS TO THE RIGHT OF THE PHOTO!
Please ensure that you clearly specify the Greek Letters you wish for us to add:
ONLY UPPER CASE AVAILABLE

Α α alpha, άλφα
Β β beta, βήτα
Γ γ gamma, γάμμα
Δ δ delta, δέλτα
Ε ε epsilon, έψιλον
Ζ ζ zeta, ζήτα
Η η eta, ήτα
Θ θ theta, θήτα
Ι ι iota, ιώτα
Κ κ kappa, κάππα
Λ λ lambda, λάμδα
Μ μ mu, μυ
Ν ν nu, νυ
Ξ ξ xi, ξι
Ο ο omicron, όμικρον
Π π pi, πι ]
Ρ ρ rho, ρώ
Σ σ/ς sigma, σίγμα
Τ τ tau, ταυ
Υ υ upsilon, ύψιλον
Φ φ phi, φι
Χ χ chi, χι
Ψ ψ psi, ψι
Ω ω omega, ωμέγα


Please let me know the letter you would like stamped on your necklace in your Notes to seller upon check out! We can fit about 10 characters including spaces.
Font as pictured only.

Perfect Christmas, Birthday, "Just because" gift for a friend who had everything! A great bridesmaid gift!

17inch stainless steel chain
1.20 inch aluminum bar


This is a hand made item and your final piece may not look exactly the same as the one pictured, it will be special to only you. Letters may not always be perfectly aligned, this is the charm of buying hand made! Each piece is completely unique.
---
We Also Recommend